Stoma Guard by Stomaplex
Customize Your Size
WOCN Stoma Guard Review
Stomaplex is guard I, and many patients, have been waiting for – finally someone designed a products that I can recommend to my patients in need of protection. There are many reasons why patients should consider using this, the most important being the safety and security it provides. Of course, the number one reason is the ability to safely wear a seatbelt. Recommended for security and support.
Reviewed by, Pearl R. Harmany, BSN, RN, CWOCN
Stomaplex guards are contoured to your shape. The guard can be sized for the depth, the width of the channel, and its overall dimensions. These products are shaped to allow for the output to flow.
---
All guards include a choice of ostomy support belt: 2-strap or 1-strap (Hernia Belt)
Three Guard Styles.
Each will protect your stoma equally well. The difference is with comfort and activity type. The Freedom-Guard ATX is best for athletic activity whereas the Pure-Comfort is best for wearing suits or clothes for the office. The Pure-Comfort has a thinner profile and lighter weight design. The Freedom-Guard is more durable with a rugged design.
The Freedom-Guard GTX has the softest padding of all Stomaplex. The outside surface is covered in FDA approved rubber with a neoprene pad. This combination creates a soft comfortable product. This Stomaplex comes clean and dries in minutes. The Freedom-Guard GTX is a great multi-purpose guard. It is both soft, easy to clean, and very comfortable.
The Freedom-Guard ATX is the most durable. The outside surface is covered in FDA approved rubber with same FDA approved rubber for an inner pad. This combination creates the most durable and longest lasting guard available. Stomaplex recommends this for anyone who is interested in a products that is easiest to clean. This is our favorite guard for sports. The Freedom-Guard ATX is best for sports and athletics. The non-absorbant construction makes it an ideal belt for cleaning.
The Pure-Comfort ATX is the finest of all Stomaplex. The outside surface is covered in leather with a leather inner pad. This combination creates the thinnest and lightest guard available. Stomaplex recommends this for anyone who is interested in the best there is to offer in stoma protection. This guard and belt is designed for comfort. The Pure-Comfort ATX is the most comfortable. The thin and light weight materials make the guard invisible over your ostomy.
Customize your size and material based on your activity. We offer three styles of Stomaplex. The Freedom-Guards are desinged those interested in being more active. Another guard called the Pure-Comfort ATX which is designed for light weight and a more luxurious feeling.
---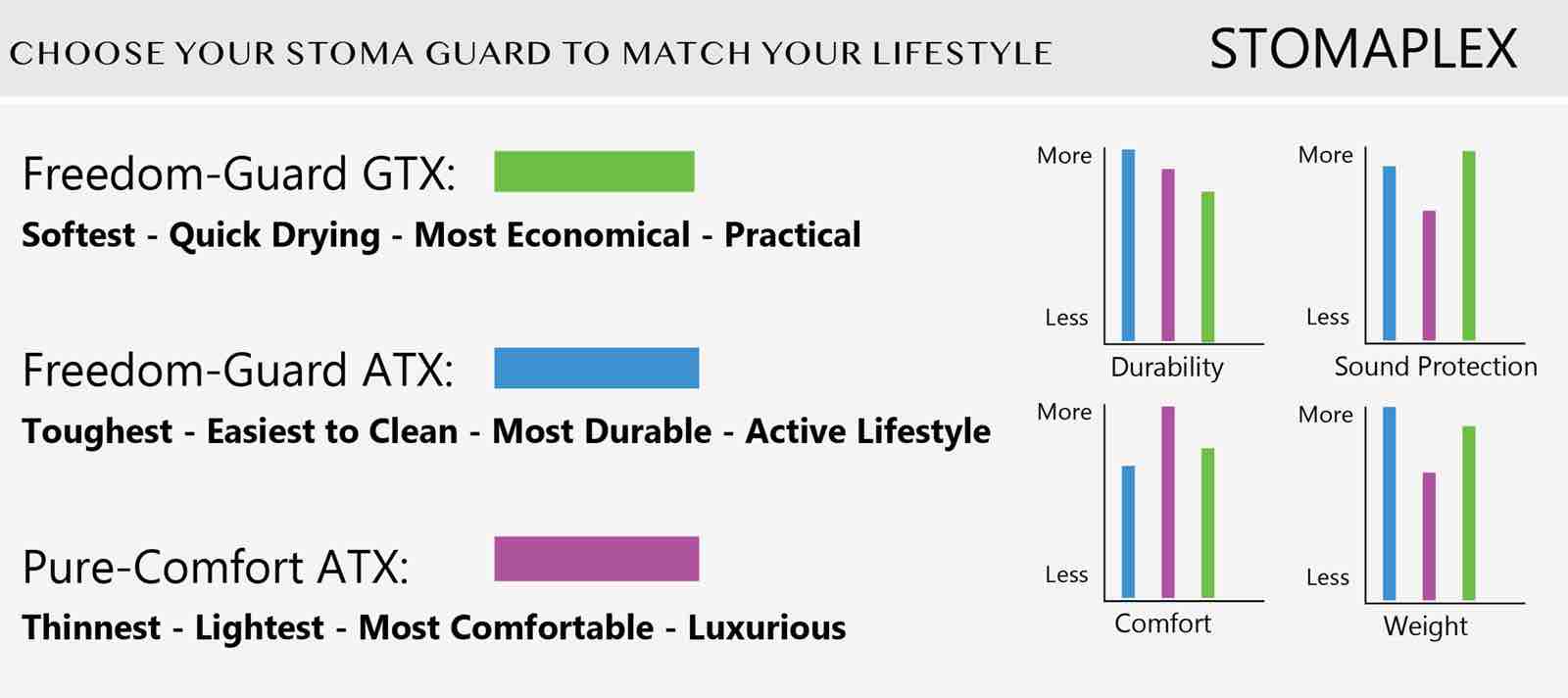 The Ostomy Support Belt
Order a Spare Belt: These belts do not include a guard.
Stomaplex ostomy support belts are designed to cover and protect your ostomy. We offer the most comfortable ostomy belt made with microfiber in many sizing options. With your ostomy covered correctly the flow of output will flow freely to the bottom of the bag. Women and men will become more active and confident. Soon you'll forget that you have it on. The guard and belt can stay in place when you empty the bag.
Stomaplex guards are contoured to your shape. The guard can be sized for the depth, the width of the channel, and its overall dimensions. The beauty of these products is the shape that allows for the output from the stoma to flow but not more bulcky than it needs to be.
Two Ostomy Support Belt Styles.
The 2-Strap Support Belt is best for adjustability. Use this to adjust the tension of the top or bottom of the support belt independently. This approach facilitates greater comfort for different body types. You can also adjust the angle of the guard to allow for greater flow.
The Hernia Support Belt is the best for compressing the parastomal area to prevent hernias from forming or to compress a hernia that is already present. This style has only one strap which is designed to hold and squeeze you more tightly. If you have a parastomal hernia or if you are concerned about developing one, this might be your choice. Another popular use for the wide belt is to hold the guard in position during sports (hockey, soccer, football, golf, swimming, roller derby, etc.)
---
Sizing
How to size your Stomaplex
Guard Size
A function of your body size.
If you are shorter than 5'6", choose "SMALL" for the Guard Size.
If you are taller than 6'2" choose "TALL" for the Guard Size.
So, if you are between 5'6" and 6'2" choose the "LARGE" for the Guard Size.
However if you are thin or you simply want a smaller guard, choose the "NARROW" for the Guard Size.
Stoma Clearance
A function of the height of the stoma.
Measure the height of the stoma beyond the skin barrier.

If the height of the stoma measures 0.5" or less, choose a Stoma Clearance of 0.75".
If the height of the stoma measures 0.75", choose the 1.00" for Stoma Clearance.
Appliance Size
A function of the diameter of the stoma or the size of the two-piece flange.
If you wear a

2-piece pouching system

.

The Appliance Size is the same as your flange size. For example: 38mm (1-3/8"), 45mm (1-3/4"), 57mm (2-1/4"), 70mm (2-3/4").

If you wear a 1-piece pouching system.
The Appliance Size is based on the diameter of the stoma.
If the stoma measures 1.25" or less choose 57mm (2-1/4").
If the stoma measures greater than 1.25" choose 70mm (2-3/4").
Belt Size
Measure the circumference of your body over the stoma.
Please Measure - do not use the size of your clothing for our belts.
Custom Made For You
Call 570-560-1016
We are able to customize the size and shape of your guard.
Choose from over 100 sizes that are available to ship whithin 5 business days.
Welcome to Stomaplex
Stomaplex manufactures a microfiber support belts with a customizable guard. Our products are designed to: 1) protecting the stoma from injury, 2) allow for free flow into the ostomy bag, 3) be as discreet as possible. Each belt is available with either a 2-strap design or 1-strap hernia belt.
We believe that the best hernia belt needs to perform three functions: 1) To Protect the Ostomy, 2) To Allow Free Flow, 3) To Be Low Profile. Stomaplex uses a microfiber in all of their products to enhance comfort. You won't find a better protector.
---
Choose Your Guard and Belt
FDA Rubber Padding
Sports Belt
For exercising we like this product. You can option your support level: hernia or comfort.
We like the Freedom-Guard ATX for sports. The rubber coating and padding are easy to clean.
---
---
Leather Padding
Comfort Belt
When you need to look your best. This guard is designed to be the most discreet.
The Pure-Comfort ATX is the thinnest and lightest. The outside and inside surfaces of this guard are covered with leather.
---
---
Neoprene Padding
Swim Belt
The quick drying swim belt with a neoprene padding on the inner surface of the guard helps you to get dressed more quickly.
The soft neoprene padding on the inside of the Freedom-Guard GTX is easy to dry after swimming.
Ostomy Care : The Equalizer
Testimonial
Bob:
I recently purchased the Freedom Guard GTX and I LOVE IT! While riding in any vehicle, I was wearing a "donut" pillow (with a hole in the middle) around my stoma to protect it from my seat belt however, the pillow was always shifting under the belt and it never felt secure. Having to bring my "special" pillow into different vehicles made me feel exposed as if I was announcing myself as an ostomate. If I was driving, I spent as much time fiddling with the pillow as I did handling the steering wheel! Not good... The Freedom Guard belt stays put on my body - secure and snug - without being too tight or binding on me. I love that I can adjust the soft, comfortable straps for either a looser or tighter fit. I literally strap it on and go - and forget about it! One of the best features to me is that I don't have to remove the Freedom-Guard to empty my pouch. I simply push it up higher on my stomach and I'm good to do whatever I need to do, then lift and push it back down into place. It's really easy to use. I have also tried another "guard" type currently on the market but because it didn't allow for output like the Freedom-Guard does it created a big mess inside my pouch doubling my clean up time and this made me feel worse about having my ostomy. The Freedom-Guard however allows me to put it on - and FORGET about it! I go about my day as usual with no worries. Now that's FREEDOM!! Thanks Bob!!
A. Woods (Atlanta, GA)
Testimonial
Bob:
So far I've only owned the Freedom-Guard ATX for a few days, but after wearing it for only an hour my hernia has disappeared. I pushed the hernia inside, put the guard on tight, flexed my abdomen a bit and my hernia has stayed in place since then!! I haven't worn the guard since just to see how it does, and I'm not saying everyone will have this experience, but I can say that I have had a hernia now for 1.5 years (since right after my first surgery to create my ileostomy) and at no time in those 18 months have I been able to "fix" my hernia. I can push it back in but it always popped right back out. Now it has been in place for 3 full days with no support whatsoever. And as far as the rest of the product, it came timely with great support from Bob, it works exactly as stated, the belts and guard are very high quality, packaging was great. I really have no complaints and honestly for me this is going to be a hernia maintenance tool. I don't know what will happen, but if I can push out hernia surgery indefinitely this product will have paid for itself many times over. Obviously this is probably a rare experience, but I think this product's potential value in preventing, treating, supporting hernias is amazing. My parastomal hernia has caused me a lot of stress and just to not have it for a few days has given me such a boost. My stomach looks normal again!!! Thank you Bob and Stomaplex... Unreal.
Nathan
Testimonial
Bob:
I've found some of the most difficult challenges in adapting to a permanent ileostomy to be the simplest of things, like comfortably wearing normal pants or a seatbelt. The Stomaplex system has proved extremely helpful in accomplishing those basic tasks and also in restoring my confidence and ability to return to many of my previous physical and work activities. I have tried other similar products and believe Stomaplex offers the edge in comfort, fit and low-profile appearance. The belt and guard are extremely well designed and made of top quality materials. The secure, highly-adjustable fit also keeps my appliance more firmly in place, which has helped reduce skin irritation and extend wear time. Service is excellent as well, with quick and thorough responses to questions and rapid processing and delivery of orders. I recently purchased my second and have also found The Equalizer helpful in ensuring good adhesion of the flange. I would highly recommend these products to anyone seeking to make living a little easier.
Shawn (Canada)
Testimonial
Bob:
I just wanted to let you know how impressed I've been with your belt - Pure-Comfort™ ATX . I had surgery in January after being diagnosed with colon cancer and having to deal with colitis the past 10 years. After the surgery I have a pretty good size stoma that looks like a downspout. I'm a bulk driver for Staples and deal with breaking down and delivering anywhere from 10-15,000 lbs worth of freight every day. I was so scared about going back to work that I wouldn't be able to do all the physical activity that I'm used to doing. During my recovery time before returning to work, I did a bunch of research and came upon your product. Despite all the testimonials, I was afraid that the product would be bulky, but I decided to give it a try anyways. All that apprehension went away after the first day of using it. I can't thank you enough about how great your product is. It's so comfortable and durable. It doesn't get in the way and I can work just as hard as I did pre-surgery. It instills a lot of confidence. Thanks again for helping what seemed like a bad situation in January so much better. I'll never work without it!
Joe (Connecticut)
Low Profile & Light Weight Design
Contoured to Your Size
Each protector has a contoured dome to protect the stoma. Adjust the size of the dome to allow for free flow. The overall dimensions of the protector are also configurable. Tall patients have the option to expand the vertical dimension of the guard so that it will extend further down into their pants. Also a thin person is able to choose a protector that has a more narrow footprint which will then be more comfortable.
All products are custom made to your specific measurements. They are contoured for maximum comfort while allowing the output to flow. All of these guards work with Hollister, Convatec, Coloplast, etc.
General Information:
Each guard comes with an elastic belt, which attaches with Velcro.
These products protect the patient's ostomy from external contact caused by things like clothing and seatbelts.
This guard also allow patients to live a more active lifestyle. You won't need to be concerned about damaging the stoma through impacts that occur during daily activities and sports.
The protector prevents leaks that can be caused by physical activity, sweating, or spending time in the water.
Since the guard applys direct pressure to the appliance, they extend the wear-time of the wafer and protects your clothing.
The protective cover is held away from your stoma by a contoured shape which wraps around your body.
The pad on the inside of the belt applies pressure on the appliance assisting in its securement, thus reducing the risk of leaks.
All of these products will allow you to go about all your daily activities with total confidence.
Veterans Ostomy Support Belt:
Stomaplex is registered with SAM.GOV as a provider to the VAMC. Contact your VAMC to learn if you are eligable to receive your ostomy support belt. All of our products are custom made to the specific size of the patient.
Call: 570-560-1016